Mr & Mrs Nawrocki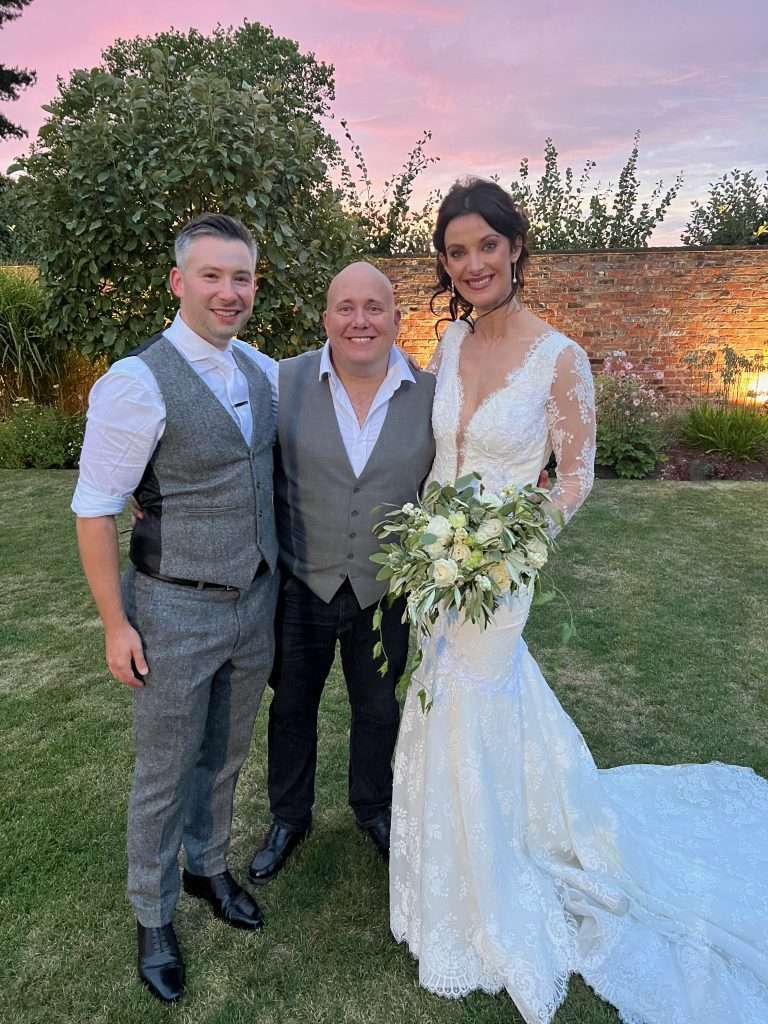 Hannah and Andrew –
It was awesome to be back at a Colshaw Hall wedding providing wedding music for Hannah and Andrew.
When I arrived the place was quiet as the #ceremony was happening at a church down the road. But the room was looking stunning having been dressed by Joseph Massie and his team.
Check out this amazing cake! I don't think it would be a real Colshaw Hall wedding if it didn't have an amazing cake! Check out our industry friends for cake suppliers we have enjoyed working with (and by that I mean eating their samples lol)
The Bride and Groom Arrive at their Colshaw Hall Wedding
I set up on the stage and then had a little time to chat to Thebeardedtoastmaster who was there to make sure everything ran smoothly. Nigel was fantastic at working with Colshaw Hall and all the suppliers on the day to make it the best it can be. Check out other fantastic wedding suppliers on our Industry Friends Page
The #bride and #groom arrived in the elegant Red Carpet Cars UK and were greeted with a a drink……….and a couple of Alpacas. Why not?
The Wedding Breakfast – in the beautiful Peel Suite with live music from The Piano Guy
As the guests were seated for the wedding breakfast I played to set the mood then, as they were announced in the room they bounced in to my rendition of "Signed, sealed, delivered". I continued to play throughout the meal, although I must confess it was hard to sit on the stage and watch all that delicious food being served by Barretts Event Caterers Ltd. Happily I did get to sample a main course during the speeches.
After the meal I moved in to the Pavilion where the guests joined me for some sing-along tunes and requests. We had Mysterious Girl (Peter Andre), Somebody to love (Queen), I would do anything for love (Meatloaf) as well as some Erasure, 90s house and much more.
Afterwards the guests returned to the Peel suite where the was a DJ from Hipswing and awesome wedding band The Indianas Band
Photography/Videography was by Carpe Diem photography
Thanks to Mr & Mrs Nawrocki for having me as part of their special day x
A word from the Bride
Two words….. BOOK HIM! We first met Mark when he played at our friends wedding 4 years ago. It stuck with us from that day that we knew he was what we wanted for our wedding too, he is such an amazing entertainer, and creates the best atmosphere, on top of this he is such a genuinely lovely person. Our guests all raved about how great he was and how much they enjoyed his music and chatting with him. Mark we cannot thank you enough, and when the vow renewal comes we will be having you back If your wanting music for your wedding, look no further, Mark is your guy! Thank you millions, Hannah & Andrew, 04.09.2022 x

Hannah Nawrocki
If you want to find out more about The Piano Guy, wedding music and other amazing Cheshire wedding venues have a browse through the weddings page. In the meantime here is a fun video highlight of the another awesome Colshaw Hall Wedding……until next time!